If you have a huge media library that you can't fit on your iPad or iPhone, here's a great free solution to stream all of it off your PC/Mac. You'll have to run Plex Media Server on your PC/Mac and VLC on your iOS device.
Plex Media Server runs on Windows and Mac, and intelligently scans all your videos, photos and music. The best thing about the Plex Server is that it automatically categorises TV shows, movies, and fetches episode information, artwork and other metadata from the internet.
So here's how you install and setup Plex on your PC or Mac:
Once the download is complete, install and launch the app. After it has launched, you should see an arrow icon in your menu bar on Mac, or in the system tray on Windows.
To launch the Plex Server interface, right click on the arrow icon and click on "Media Manager." This should open Plex in your default browser, and you should see this screen:
Click on the "Add a section" link in My Library. A popup will ask you if you want to add movies, TV shows, music or photos. Select the type of media you want to add.
Once you've selected the type of media, you'll have to point Plex to the folder(s) where your TV shows/movies are stored.
Add all the locations on your disk where you think you have your videos stored, and hit save. Once you click save, Plex should automatically start scanning your media and fetching artwork and other associated metadata from the internet.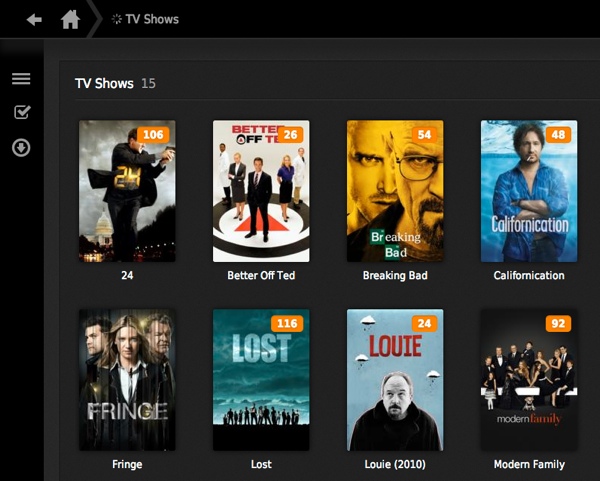 You can repeat the process for other media types like movies and music. With this, you're done with configuring the server. Plex will keep updating your library as you add new files to the source folders.
On the iPhone or iPad, you'll need VLC for iOS. If you don't already have it, you can download it from this iTunes link.
Open the app, and tap the VLC icon at the top right to open the side menu, and tap on "Local Network." (Note that you'll need to be on the same Wi-Fi network as your Mac/PC.)
Tap on Local Network, and you should see the Plex Media Server listen under the UPnP section. Tap on it to see all the videos in your library:
Tap on Video and choose the media type you want to see. You'll have to navigate quite deep to ultimately see the video file, but once you reach that level, tap on the file to start streaming it off your PC:
With this setup, you can watch your favorite TV shows, stored locally, on your iPad or iPhone without having to transfer them to your device.
Let us know how it goes in the comments below.