The Unc0ver team has released the world's first iOS 13 – iOS 13.3 jailbreak for A12-A13 Bionic devices. While Checkra1n was the first iOS 13 jailbreak tool for the public, it only supports jailbreaking iPhone X and older devices. If you own an iPhone XS, iPhone XR or iPhone 11/Pro running iOS 13 – iOS 13.3 and want to jailbreak it, follow this guide.
If you have ever used Unc0ver to jailbreak your iPhone previously, you will be familiar with the steps in this guide. Despite a newer iOS release, the process to jailbreak an iPhone using Unc0ver remains pretty much the same. Do note that since this is the first release of Unc0ver which supports jailbreaking iOS 13 – iOS 13.3, it has a number of bugs. So, if you wish to, wait until the Unc0ver team gets around to releasing a bug-fixing update to the tool.
Compatible Devices
Unc0ver 4.0 only supports the following devices running iOS 13 – iOS 13.3.
iPhone XR
iPhone XS
iPhone XS Max
iPhone 11 Pro
iPhone 11 Pro Max
iPhone 11
The tool does not support iPhone X and older devices and if you own an old iPhone or iPad, you can use the Checkra1n tool to jailbreak it.
Pre-Requisites
Delete any iOS 13 OTA update file from Settings -> Storage and reboot your device before attempting to jailbreak it.
Unc0ver jailbreak has complete support for Cydia and Substrate.
Make sure to create a backup of all important data on your device before proceeding with the jailbreaking steps.
Guide to Jailbreak iOS 13 – iOS 13.3 Using Unc0ver and Installing Cydia
Follow the steps mentioned below to jailbreak iOS 13 – iOS 13.3 running on your iPhone 11/Pro and iPhone XS/XR.
Step 1: Download AltServer on your PC and open it. Proceed to connect your iPhone to your PC over USB.
Step 2: Click on the AltServer icon from your Mac's menu bar, select Install AltStar and then proceed to select your iPhone or iPad.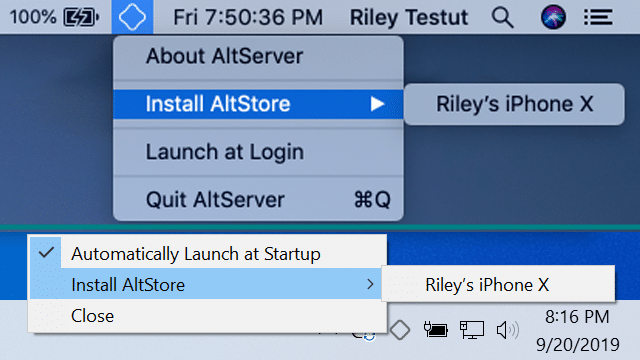 You will be prompted to enter your Apple ID credentials during the installation process.
Step 3: An AltStore icon should now show up on the home screen of your iPhone. With your iPhone connected to your PC, go to Unc0ver.dev and download the latest version of Unc0ver.
Step 4: Once downloaded, use the "Open In.." option to open the IPA in AltStore. This will start the installation process. You might have to enter your Apple ID credentials during the installation process for certificate signing purposes.
Step 5: Open Unc0ver, tap the Jailbreak button, and wait for the app to do its job. Your iPhone will respring during the process after which you should see the Cydia icon on your home screen.
It is possible that the jailbreak process will throw an error and fail for you. If that happens, simply restart your phone, open the Unc0ver app and try to jailbreak it again.
If the Unc0ver app keeps failing to jailbreak your iPhone such as the app keeps crashing or just seem stuck, then in such a case, you need to close the Unc0ver app, clear all app cache, restart your iPhone, turn on Airplane mode, and then try to jailbreak your device again.
Another method that seems to have worked for a lot of users in the /r/jailbreak community can be found below:
Power on device
Kill all background apps
Enable Airplane mode
Open uncover
Open settings, scroll to the bottom
Go see (refresh) widgets
Back to the home screen
Kill uncover app
Open uncover app, go to settings, check Auto-Respring
Go to the main screen of Uncover
Count to 5-10 (CPU cooldown)
Press Jailbreak
If you are still facing issues, then you can refer to our article on how to fix iOS 13 – iOS 13.3 Unc0ver jailbreak issues.
Once you are done jailbreaking your iPhone using Unc0ver, check out the list of the best iOS 13.3 compatible tweaks for it.
---
The good thing about Unc0ver 4.0 is that the jailbreak method is relatively easier and straightforward when compared to Checkra1n. The latter requires you to have access to a PC and the app is only available for Mac and Linux as of now.
Let us know how it goes, and let us know if you need any assistance.